Welcome to Sandra's Reference Library
My Favorite Reference Sites
Welcome to my personal treasure trove of library reference resources. Here I tuck away all the tools I can use to help me with my career as a reference librarian.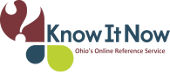 I actually had the privilege of working for KIN24x7 for two one-hour sessions during my Fall 2010 Kent semester. It's an excellent resource, staffed by Ohio librarians, and available 24 hours a day to answer online inquiries. Staff use an IM tool called SparkRef1.0 to interact with patrons, manage responses and search for resources.
Visit Know it Now 24x7.
The Internet will always play an especially important part of my career. This site is dedicated to archiving the Internet. Here I can find sites and pages that have been "retired." This is an excellent research resource for finding historical Internet information.
ipl2 is a site that is maintained by a consortium of library and education professionals. Not only can I find links to reference resources, but I can ask a librarian a question. I will need sites like this that consolidate various resources in one place to facilitate information seeking.
This site is a launch point for many of the reference resources on the Internet. It was developed by librarians who have had experience in reference work and will help me streamline my reference activities. It's great to have all these resources corralled in one great site.
This is an amazing resource for fielding questions about current news and events. It doubles as a direct link to hundreds of newspapers. If a patron has a question about current events, this will be my first stop.
Although this site has not been updated in some time it remains, nonetheless, an excellent launch point for the voluminous number of health reference sites on the Internet. It was created by a professor at the Oregon Health & Science University. I will be using this site to answer questions regarding heath issues.
This is an especially good resource to assist with evaluating reference materials. New reference sources are released all the time and I may not be aware of them. By checking this page (or better yet, subscribing to the RSS feed), I can keep updated on new resources to help answer patron inquiries.
Refdesk is one of the first reference "portals" ever published on the Internet. It's a launch point for many, MANY information resources. For basic patron questions, this would probably be my first stop.
The name says it all. This site is maintained by a librarian called Mary Niederlander. It is a librarian "toolkit" that features links to a variety of Internet reference resources. My only complaint is that many of the links are broken and she needs to organize the material better.
---
My Favorite Books
| | | |
| --- | --- | --- |
| This book details the importance of the reference interview. The author provides pages and pages of scenarios to guide you through the process. I anticipate using this book as my own personal reference guide. | This book contains an exhaustive supply of reference information. Each chapter focuses on one particular category of reference materials. The author provides evaluations of each resource and indicates whether resources are free or pay services. I expect this to be my "bible." | This book was my first Kent state textbook. The author "explains" how all of the resources at the library are organized and demystifies the library collection. In many ways it provides a foundation of the library field and I plan to keep this book handy as well. |
---
Bibliographic Citations
Health Reference Triage: Health Resources for the Public . (n.d.). Retrieved February 24, 2011, from Oregon Health & Science University website: http://www.ohsu.edu/library/ref/ohslaclass.shtml
Internet Archive. (n.d.). Retrieved February 24, 2011, from http://www.archive.org/
ipl2. (n.d.). Retrieved February 24, 2011, from http://www.ipl.org/
Know it Now 24 x 7. (n.d.). Retrieved February 24, 2011, from State Library of Ohio website: http://knowitnow.org/
Library Spot. (n.d.). Retrieved February 24, 2011, from http://www.libraryspot.com/
refdesk.com Fact Checker for the Internet. (n.d.). Retrieved February 24, 2011, from Refdesk website: http://www.refdesk.com/
Reference Resources For Answering Patron Reference Questions. (n.d.). Retrieved February 24, 2011, from Library Support Staff website: http://librarysupportstaff.com/librefpg.html
Reference Reviews. (n.d.). Retrieved February 24, 2011, from Library Journal website: http://www.libraryjournal.com/csp/cms/sites/LJ/Reviews/Reference/index.csp
Today's Front Pages. (n.d.). Retrieved February 24, 2011, from Newseum website: http://www.newseum.org/todaysfrontpages/
Books
Cassell, K. A., & Hiremath, U. . (2006). Reference and information services in the 21st century : an introduction ( ed.). New York, NY: Neal-Schuman Publishers.
Ross, C. S., Nilsen, K. ., & Radford, M. L. (2009). Conducting the Reference Interview: A How-To-Do-It Manual for Librarians ( 2nd ed.). New York, NY: Neal-Schuman Publishers.
Taylor, A. G., & Joudrey, D. N. (2008). The Organization of Information (3rd ed.). Englewood, CO: Libraries Unlimited.
As a library professional it is important that you remain abreast of issues and innovations that affect public library services. This course provides an overview of the different service areas found in public libraries. Hopefully you have found an area of service that interests you and will serve as a path to your future in libraries. Create a toolkit that can be your main source of information on topics related to a chosen area of library service, such as outreach, children's library services, technical services, etc. Your toolkit can be in any form you like (Word document, powerpoint, wiki, blog, etc) and will list links, annotations, and article citations, blogs, discussion lists, web sites, etc. that you will monitor for relevant information regarding your area of focus. Include full bibliographic citations, a 3-5 sentence annotation that explains the type of information found and why it is relevant to your future. Your toolkit must contain at least 20 annotated items, organized by subject.
Include a job description for a position in your area of focus. Also include an assessment of the skills you need to further develop in order to succeed in the position. Are there classes, workshops, or professional development events that would help you land the job? Conduct a search for both local and national professional development events (include info and cost to register/attend) that would be beneficial to you in this job. What other resources are available to help you in this role?
page revision: 45, last edited: 10 Nov 2012 22:56